circle
img
img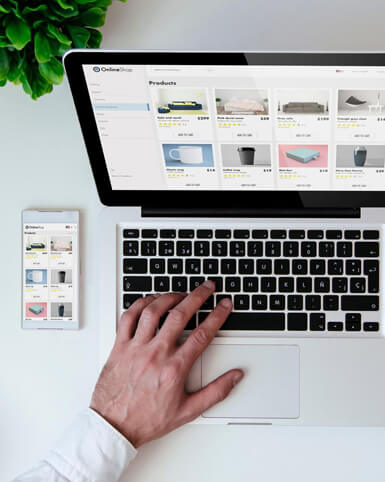 We design creative, mobile-first, and user-friendly websites with our unique consumerism approach.
line
75% of people judge a company's credibility based on its website. Being a leading web design agency, our web designers ensure to amplify your business's branding by creating conversion optimized, easy to use, and elegant websites, with improved UX/UI.
With professional web experience, our expert website designers leverage cutting-edge web design tools like Sketch, Adobe XD, Illustrator, Invision, and many more, ultimately offering you the best revenue-driven web design services.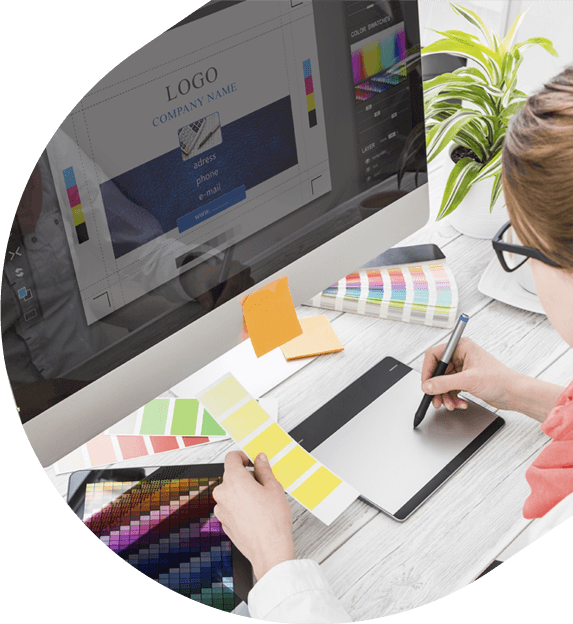 Custom Website Design

Your website needs to be the perfect reflection of your business. To achieve this goal, our team of designers ensures skillfully handcrafted, custom web designs for a true result-driven online presence.

Mobile-Friendly
Web Design

With an extensive surge in the use of mobile devices, we adeptly provide complete mobile-first web design services that enhance user experience and attract visitors.

Clear Calls To
Action

CTAs guide visitors on what to do next. Webby Central ensures the incorporation of clear CTAs, implemented in the right place, to grab visitors' attention and generate more leads.

Optimized for SEO

With easy navigation, search-engine friendly layouts, unique content, and design practices, we guarantee to create a web design that is well-optimized for SEO.

Our Website Design Expertise
Creative Design
User Experience
Leverage Latest Tools
Testing UX/UI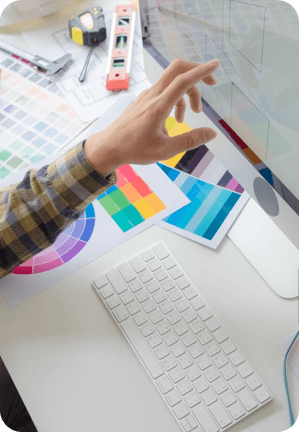 Creative Design
We help build lasting impressions by providing creative web design ideas that attract massive visitors to your business.
line
Since 93% of website visitors use website design to build trust, our team of designers explores all creative concepts while outlining the layout of your website. Webby Central then crafts beautiful and fully-responsive web designs with your specific business goals in mind.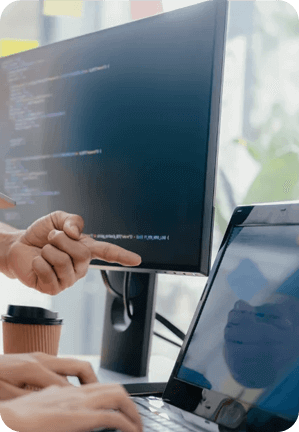 User Experience
To deliver the most seamless user experience, we provide simple yet impressive UI designs based on in-depth market research and trends.
line
Webby Central creates user-centric designs to provide the best user experience through higher ease of usage and an improved feel. Our experts ensure your website UX will be clear, comfortable, and optimized to turn visitors into loyal customers.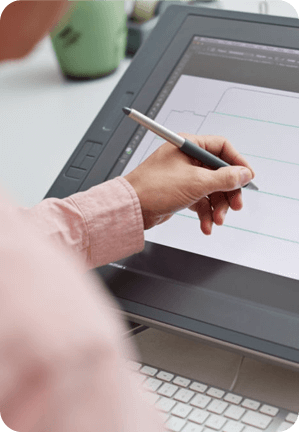 Leverage Latest Tools
Our designers leverage the most advanced, and cutting-edge web design tools to create amazing web designs for your business.
line
We leverage all the latest web design tools such as Sketch, Adobe XD, and more, that allow us to become more streamlined, inventive, and creative, so we can offer you high-performing and sales-driven websites.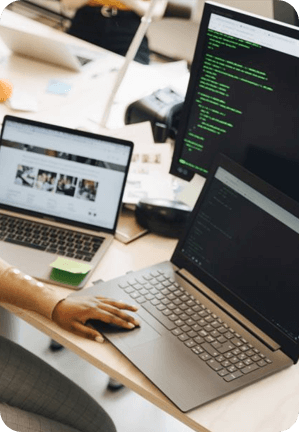 Testing UX/UI
Webby Central's quality assurance team will run through your website design with a fine-toothed comb and ensure optimal quality.
line
We make sure the usability is on the top-notch. We perform UX/UI tests to verify the functionality of the interface and also run meticulous usability tests to ensure the optimal user experience.

Very communicative and exceeded my expectations Very fast in processing feedback.
Andrew Celery Payroll

We need assistance to get a custom-built website based on the PrestaShop theme being categorized under e-commerce business. We admire Webby Central's project management team for their coordination in the website development.
Joe Abi Raad Atmosphere

Without an engaging website, our idea could not have succeeded. Webby Central was the platform that made me feel satisfied within the first conversation. The project coordinators there were responsive and ensured that they will produce what we envisioned for the upcoming project.
Florian Buchholz Welcome Dinner
I am thankful to the team "Webby" as they were talented enough to streamline user data management and an easy to use design. Their award-winning attempts helped me get a web presence, which I dreamt of.
Emma Trans Fast

We were looking for a perfect custom business card tool for our brand, which has all the advanced functionalities like customization and templates' availability. The team at Webby Central sketched an ideal business plan, and they created something out-of-the-box.
Filipe Taylor Business Card Creator Pro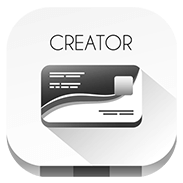 Our Analytics-Driven Web Design Process
ideas gathering Brain stroming &
ideas gathering
Product Architecture Product Architecture
& Design concept
Wireframing Wireframing
& Visual layout
Designing visual Designing visual
Design Guide
Design Usability Design Usability
Testing
Technologies we
leverage
UI/UX Design
Web Technology
Java Script framework
CMS/E-Commerce
Database
Adobe Photoshop Adobe
Photoshop
Invision (in)
Invision (in)
Adobe Illustrator Adobe
Illustrator
.Net Objective-C .Net
Objective-C
Ruby on Rails
Ruby on Rails
Frequently Asked Questions
icon
Why should I choose Webby Central for my website design?
Webby Central is a professional and reliable web designing company that has been delivering projects at all levels of complexity to clients globally. Our clients range from small businesses to large enterprises. Besides, we have a deep understanding and in-depth knowledge of website requirements that stand us out from others.
icon
What platforms do you use for website development?
Our proficient developers use all the prevalent platforms such as WordPress, Joomla, Magento, OpenCart, PHP, .NET, JSP, and many others to give you the strategic and engaging experience of your website.
icon
Can you provide a creative web designer for my e-commerce site?
Webby Central has a team of highly creative and experienced professionals who design your e-commerce site in such a way your potential customers can't ever resist.
icon
Can you design an e-government website incorporating diverse functionalities and features?
Yes, we have expertise in designing government websites. Our proficient developers can design an e-government website incorporating multiple functionalities and features.
icon
Can you redesign an existing site into a conversion driving website?
Yes, we adeptly redesign your existing website and turn it into a conversion driving website as we understand the importance of having an appealing online presence in today's time.
icon
Can you redesign a message-conveying logo for my brand?
Indeed. Our team of creative designers brainstorm and design a unique logo that speaks about your brand well.
icon
Do you provide web designing services for a newly built company?
Yes, we do. Webby Central provides its web designing services to all types of businesses be it an old or a new company.
icon
How long does it take to design a website?
Designing of any website depends on every individual's demands including features, number of pages, and more. However, our skilled professionals work hard and create a business-centric website within the promised timeframe.
icon
What kind of technology do you use or support?
Our highly-skilled developers leverage all the latest technologies available and craft a beautiful website for you accordingly that helps in driving maximum revenue.
icon
What are my options for e-commerce web designing?
There are so many demanding platforms options available for you for e-commerce web design and development such as Shopify, Magento, OpenCart, ZenCart, and many others.
icon
Will my website design be search-engine friendly?
Our web designs are compatible with established search engine guidelines. With SEO best practices, we can ensure that your web design is developed amongst new search engine rules and algorithms to satisfy desired goals.
icon
What if I'm not satisfied with the design?
Customer satisfaction has always been our top priority. If you are not satisfied with services related to our web design, we can retarget our design strategy to better match your needs.
icon
What is the cost of your website design services?
The cost of our web designing service depends entirely upon your business needs and goals. However, we at Webby Central have a very reasonable costing and flexible pricing model for all types of web design services.
icon
Why should I choose Webby Central for my digital growth?
Webby Central is a leading digital solutions agency that has been delivering digital growth to businesses globally for so long. As an experienced and reliable company, Webby is specialized in delving deeper, understanding your business needs, and growing your client base adopting unique strategies.
icon
Do you sign NDA and NC?
Yes, we sign contracts, NDAs, NC, and other necessary documents with you before starting off any project if you ask.
icon
Does your company provide support and maintenance?
Yes, we do provide support after the project go-live. You may even ask for the extension of our support after the project support period is over.
icon
What are your payment terms?
At Webby Central, we have a very reasonable costing and flexible payment model for all types of services. You can hire us on a fixed-bid or dedicated model.
icon
Can we meet up to discuss my need over a coffee?
Yes, we are open for coffee if you are in Boston, Walpole, NYC, or nearby. Let us know your calendar and one of our executives will schedule the meeting.
Want to build a beautiful website?
We design mobile-first and user-friendly websites
Talk to Our Team
arrow