Starting out with a new website but can't decide between custom vs template web design? We can help you. In this blog, we'll talk about the good and bad aspects of custom web design vs template web design and help you understand which one is the right choice.
In a time where user-intent is constantly shifting, and people are going more digital, you simply can't overlook the importance of having a persuasive digital presence of your business via a website, especially when over 1.8 billion websites are out there right now. Today's digitally-driven world demands a strong online presence, and that's why developing a website is no more an option; it's a need now. 
Once you decide to move forward with investing in a new website and get in touch with your web strategist and consultant, you understand that the thought of starting a website is not confusing, but various considerable factors are, and deciding which template is to choose is one of them that can be difficult and intimidating.
Let's get into the nitty-gritty of custom and template web design differences and settle all your questions (including, should I go with a custom-built web design or use a template-based design for my website? Which one will be best suited for my business? What are the differences between custom vs template web design? And so on) once and for all.
What Is a Pre-Built Web Design Template?
A template web design is a pre-made layout or set of HTML webpages that anyone can use to plug-in their text content and images to create a website. To simply put, the website template design offers you pre-defined boxes to plop your content into.
You can find a template that most closely matches what you need and makes small customizations with colors and images. For instance, WordPress offers various pre-set web templates to choose from that enable you to start your website effortlessly.
Pros of Web Design Templates
->Inexpensive – Pre-built web design templates are usually less expensive than custom-based web templates. Various platforms out there offer free templates that are advantageous and can fulfill all your business needs. Even if you decide to go with paid templates, that won't cost you much.
->Time-Saving – Creating a website from scratch can take you long and sometimes frustrating because a lot of time goes into writing a code. On the other hand, web design templates can save time and help you create a website faster since they are already coded.
->In-Built SEO Features – SEO brings lots of traffic to the site and enhances your website's ranking. A custom-based website template needs optimization; however, various platforms offer pre-designed web templates with built-in SEO features, which will benefit those who don't know about SEO technicalities.
->Add Unlimited Content – CMS platforms like WordPress and Joomla offer web templates that allow you to add content even if you have no coding knowledge easily. You can publish articles/blogs and videos in just a few clicks. 
->Easy Set-up – Pre-defined web templates usually come with large amounts of built-in functionality, widgets, and options, which make you set up your website much easier, along with providing flexibility in creating your design.
->Reliable Updates – This is one of the best parts of using pre-built website templates. They come with updates and support (even for the future) to keep your website running and minimize bugs along the way.
Cons of Web Design Templates
->Flexibility Issue – Most web templates are somewhat flexible but beyond that, what you see is what you get. Pre-designed website templates don't really give you too many choices when it comes down to making changes to your website.
->Customization Difficulty – Website templates don't give you the option of customization as per your business needs. If your website demands frequent changes from time to time, you shouldn't go with web templates rather than custom-web design.
->No Uniqueness – Web templates are pre-defined, and usually, almost all the templates come with the same set of features and have no uniqueness. If you want a website template that can give you a unique look and feel, you must switch to custom web templates.
->Integrations Difficulty – Pre-designed website templates can integrate a few services but don't really have the capabilities to integrate third-party systems, APIs, or even connections of some sort.
What Is a Custom Website Design Template?
Custom web design template is a personalized template built keeping business' specific needs and demands. Businesses who want a personalized website usually hire a web design agency that can craft immersive web templates. Designing a custom web template involves understanding the business' needs, target audience, competitors, and market so that a tailor-made web design template can be readied.
Pros of Custom Web Design Templates
->Highly Flexible – Opting for a custom-built website template means you can continue adding whatever the functionality and features you want and need, that too, as often as you like. Nothing stops you from contacting your website developers and having new features added.
->Unique Design – Custom-built web templates allow you to create a unique website; you can make it look like anything you want. You've complete control. With custom templates, you're not bound with limitations like pre-designed web templates. 
->Better Adaptability – Custom web templates easily adapt to your business needs in a better way and give room for incorporating your company's branding into it. Custom website templates are high in scalability, letting your business grow rapidly.
->Responsive and Mobile-Friendly – Custom website templates are prepared, keeping your business's specific needs. This means website designers ensure that the custom-made web template is highly responsive and mobile-friendly, and compatible across all browsers. This leads you to win more business.
->SEO-Optimized – Custom web design templates are readied with the right coding and best SEO practices that keep your website well-optimized as per the latest SEO and search engines' standards. This will rank your website higher in search engines and let you reach your potential customers easily.
->Top-Notch Security – Custom-made web templates are highly secure as they come with support and regular updates that keep your website bug-free, error-free, and all types of glitch-free so that your visitors can flawlessly and securely visit your site.
->Competitive Edge – The biggest advantage of custom-made web templates is that they come with lots of benefits and personalized features as per your business needs. This will make your website stand out from the crowd and give you a competitive edge over your competitors.
Cons of Custom Web Design Templates
->Higher Cost – Custom web design templates put a big dent in your pocket. Startups and small businesses are usually tight on the budget are not advisable to invest in custom web development. Still, if you want to go ahead with a custom-made web template, you must have a well-prepared budget.
->Time-Consuming – Due to the project complexity and time-consuming process, the custom-made web design templates can take a little longer than the usual time, resulting in project delays. If you've decided to invest in a custom-built website template, you need to keep the patience.
Template-Based Web Design Vs Custom Web Design: Which One Is the Right Choice?
As you have come to the end of this post, you must be thinking about which one is the right choice for your business between custom vs website templates. It usually comes down to your business needs and personal preferences that will influence your choice. If you're just starting out a website, you should first opt for a pre-made website template, and once your business becomes a bot older, you can switch to the custom-built web template accordingly.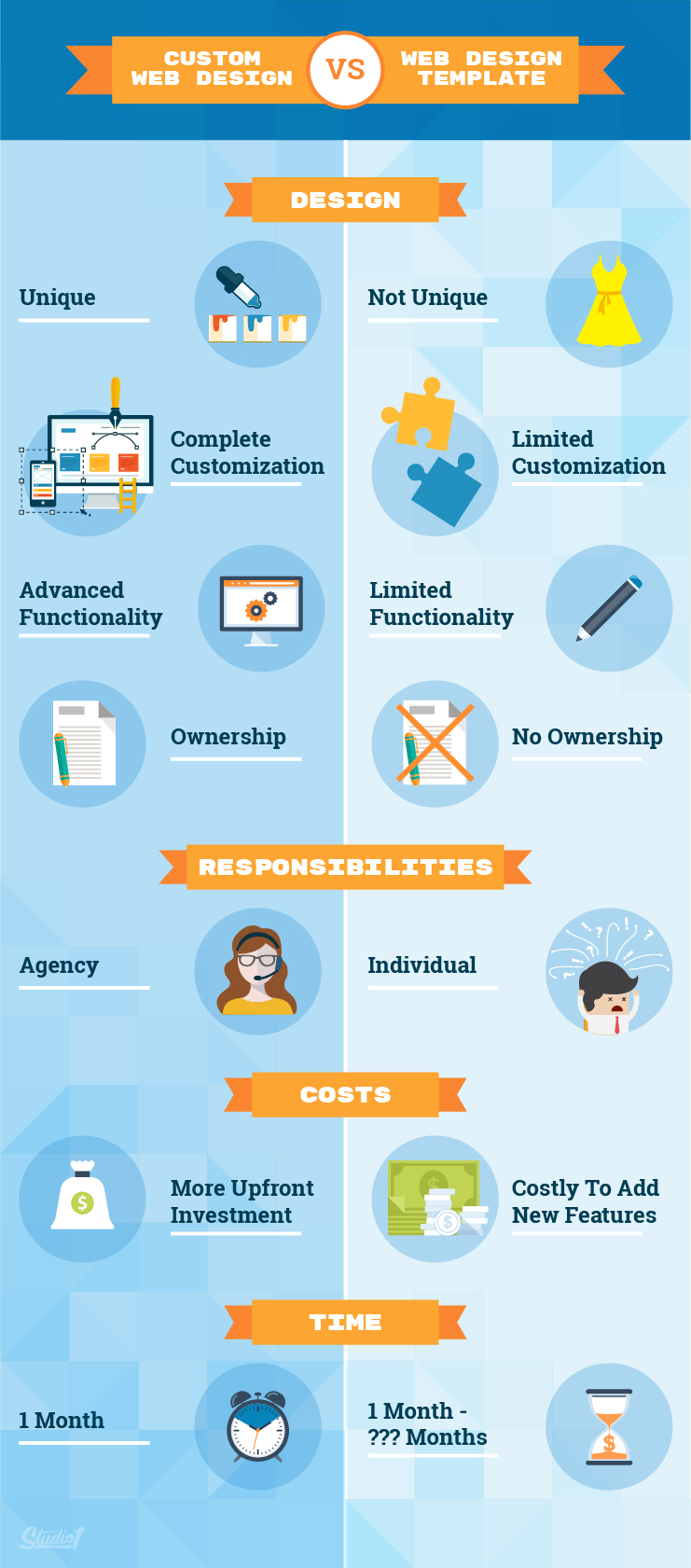 Image Source: studio1design.com