In this modern-day business setup, it is necessary that your product gets adequate limelight. The new-age users of these days have a plethora of options and 'out of sight means out of mind' in the modern day business world. At Webby Central, we understand the potential of a good SEO and what difference it can bring to the fortunes of a business. 
This is the reason why we render top class SEO services and help our clients to reach maximum number of users. We are happy to inform that TopDevelopers.co has recognized our work and in their press release about the leading SEO Companies we have been included in the list of top agencies of March 2021.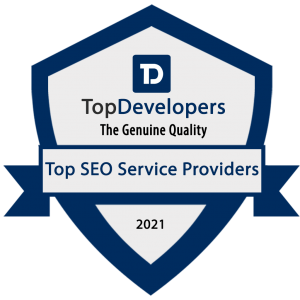 At Webby Central, our main aim is to build your products brand. Thus, we leave no stone unturned in employing innovative methods so that your product makes a name for itself. Our 'out-of-the-box' thinking process enables us to go beyond our peers and allows us to give the best possible services to our clients. This is the reason why we on a regular basis find our name in the list of top 10 SEO companies across the globe. 
Webby Central was founded in the year 2013 and in the last eight years we have rendered our services to over 2000 clients worldwide and have completed more than 3200 projects successfully. Our esteemed clientele includes names of the marketing leading companies such as Intel, Motorola, HP, Duracell, Huawei, and many more. If you are looking to get an in-depth analysis of our previous work, please visit our portfolio.
Our impressive work experience allows us to understand the problems of our clients clearer. We have rendered our services to companies belonging to different genres of industries like automotive, business services, real estate, hospitality and leisure, IT, retail, and many more. 
We understand the importance of client retention and thus have a very healthy client retention ratio. You can read about what our clients have to say about our work ethics and technical prowess by visiting Webby Central's profile  on TopDevelopers.co. 
Who is TopDevelopers.co?
TopDevelopers.co is a well-known, reputed B2B IT service providers' review platform. They follow an unbiased approach when it comes to reviewing the companies. The team of experienced experts at TopDevelopers.co gauges the organizations under strict parameters, ensuring that the most deserving competitive firms, businesses, enterprises, and entrepreneurs will get (and make it) through their process. This indeed helps the services seekers to employ the most talented, appropriate, and reliable companies that can help them fulfill their business needs.